For the maintenance of your machine park, Blokss professionals would gladly assist you in the possibilities for your company. Our employees have years of experience in implementation and execution. Whether you are looking for advice or executives for your maintenance plan, we are there to help!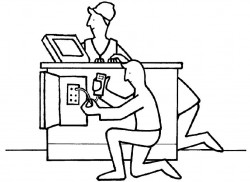 The professionals of Blokss have years of experience in training, implementation and execution of improvement methods and techniques. They have gained this experience within several internationally known production companies.
In our approach, 3 aspects are central:
Aim: In consult with the management, goals and targets are determined and translated to every layer in the organization.
Install: The organization will be equipped to guarantee success.
Execute: The successful improvements are executed.
Central to these aspects is always efficiency and cost reduction!
MORE INFO AND CONTANT
For every building block, Blokss has one or more unique work-modules.  We would gladly assist you in the maintenance of your machine park or with other targets/objectives you strive for.
Next to helping you achieving the desired results, we provide you with the right techniques and methods to guarantee your results!
Contact one of our professionals today by dialing +31412404036 and let us find out what we can do for you!
Other visitors of this page also searched for:
PROCESS-ORIENTED AND FOCUSED WORK
DON'T HASITATE TO VISIT OUR OFFICE
Oostwal 171
5341 KM OSS
TelEPHONE: 0031 (0)412 – 40 40 36
info@blokss.nl